We want to raise funds to donate to STOP SOLDIER SUICIDE. For this, we custom tailored neckties meant for those who support those who serve - for themselves and for gifting those they care about. The proceeds would be donated to this advocacy.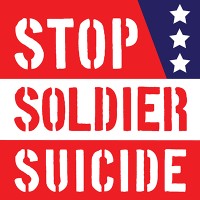 In May 2019, we got a message on our Facebook page from Buddy. He wrote about a tie we posted. He was remarkably detailed in his admiration, and on which season and occasions he thought it would be good on. He also mentioned that he was a designer and would like to send us his designs for ties. This guy was thinking like us, and so we got very interested. We actually talked about him outside work after that.
Several messages later, and a visit to his Facebook profile made us realize that he is autistic, maybe a kind of savant. It did take some time but he finally sent us his designs of stripe ties in the colors of the US Army, in colored pencils. It was well thought through though. The stripe pattern could very well be in keeping with the tradition of decorating the soldier's uniform with stripes to denote the length of service. So we told him that we'll make his designs and for his effort give him the ties for free. 
We also told him that we'll sell the ties with his designs and donate the proceeds to help stop veteran suicides. His dad was a US Army veteran who killed himself. We also told him that we'll name one of them after him, and another after his dad.
So we had the Art Department make a production artwork of his three designs. We also had them expand the concept into the other three combatant branches; the Marines, Navy and Air Force. Proceeds from them will also be donated to stop veteran or soldier suicide.  
The designs were based on these colors of the branches:
Army  - Black & Gold
Navy - Blue & Gold
Air Force - Ultramarine Blue & Gold
Marines - Scarlet & Gold
Buddy's designs along with those for the other branches were executed in elegant 7-fold ties. These are special ties with no lining in them. Instead of sewing a lining material into the tie to save on costs, it is made out of a single piece of elegant tie fabric that is folded 7 times to luxuriously achieve its thickness and supple feel. 7-fold ties are considered the pinnacle of luxury neckwear that preventing soldier suicides really deserve. It's the least we can do for the moms and dads who serve or served. And for Buddy and the other children of veterans, they really shouldn't have to lose their dad or mom.
Comments (0)