To understand the importance of pockets in men's clothing one needs to go through a brief history of pockets. Pocket word is derived from the Northern French word 'poque', which means bag. As late until the 19th century, the word pocket meant a small pouch or bag inserted in a garment. The original pockets were not sewn in the clothes but rather small bags detached from clothing. In the 15th to 16th centuries, men and women carried currency and other items in a pouch that was tied around the waist or hung from a belt. With the rise of thieves and pickpockets, people then began to cut slits in their dresses and tuck their pouches inside their clothes for safekeeping. This led to smoother and flatter bags so they would be easily accessible and won't bulge out under the clothes.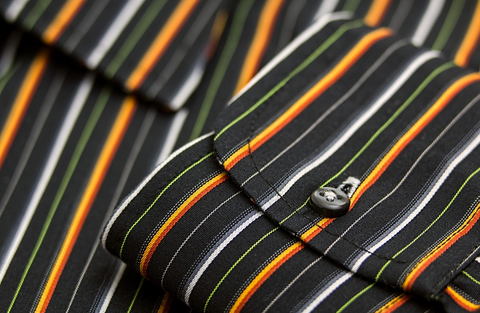 As men's attires became more form-fitting, it became difficult to fit a pocket purse between clothing and body. It was an inevitable step then to attach the pouches to the clothing itself, and tailors began to sew pocket bags into the seams of men's breeches, and then into their coats. Gradually the pockets were added to vests, and by the 19th century, many kinds of men's garments began to include a wide range of pockets: inside/outside breast pocket, watch pocket, side/hip pants pocket, ticket pocket, etc.
Early pocket options on pants were fairly limited and basic: they were fashioned in the waistband, straight across the top, or on the sides. Three classic suit pockets were popular in yesteryear, and continue to adorn suits today: Jetted pockets, ticket pockets, and patch pockets.
Given the rich history of the humble pocket, it is not surprising we have become so attached to their attachment. Pockets represent the ultimate in functionality and minimalism. What you need is right at hand. In addition, if you cannot fit it into your pockets, you have to do without it. If the clothes were to have no pockets, it will necessitate the use of a bag or some kind of satchel to carry your essentials and currency. Where would a wallet go? Where would you put your kerchief? Where would you put your hands when exuding an air of calm relaxation?
In our sincere and humble opinion, pockets to men's clothing are what leaves are to a flower or stars are to the sky. They are a necessity and an adornment. We at KissTies take great pride in providing our clients with a wide range of pocket squares and kerchiefs. We want you to wear a suit with a flair and be your dashing, debonair self, with a vibrant pocket square peeking out of your coat pocket.
Comments (0)