For an MOQ (minimum order quantity) of only 6, you can have your own set of personalized ties, bow ties, or pocket squares. Even pocket rounds which create exquisite corner-less floral folds.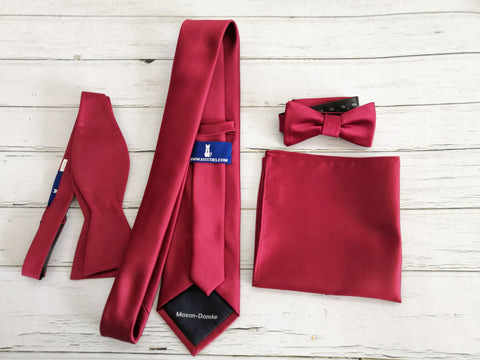 But if you'd like to customize for inventory, you can bring the costs down to wholesale levels starting with an MOQ of 50. KissTies controls the end-to-end process from production to selling to after-sales service to over 500,000 customers now, both consumer and business. Fully-automated production lines guarantee that your big orders are completed on time. Our deep market and product experience is KissTies' greatest manufacturing leverage.
What can be customized? Just about everything, from the dyes to the weaving, to the tailoring, to the labeling.
We had a Mason order a custom tie for their lodge in New York. He wanted a satin tie that matched the color of a Josiah Wedgewood pottery bouillon embroidered with a white icon of George Washington. We started off weaving a satin cloth that matched the powder blue of the pottery and had it approved. The layout and size of the icons were approved by the customer too before we presented him with the prototype. In fact, everything was customized including the embroidery on the tipping - the piece of cloth at the back of the wide end.
If you'd like to private label the tie, we can customize that too. You just have to provide us with the artwork for the label.
So here's what we can customize:

1. The cloth
The material could be silk or microfiber. For satin, solid color can be specified with a cloth sample. It can be one of the popular jacquard-woven patterns - Paisley, Checkered, Plaid, Striped, Polka Dot, or Floral. It can even be from a drawing on paper.
2. Tailoring
Size can be tailored of course. Elements of quality workmanship like the bar tack or the keeper-loop in ties can be had. The thickness of lining too, or no lining at all. A 7-fold tie which is considered the pinnacle of luxury neckwear has no lining at all. Instead, substance and weight is luxuriously achieved by folding the tie material 7 times.
For bow ties, we have self-tie or pre-tied ones.
3. Branding
The label can be customized to carry your brand. So is the tipping - the piece of cloth at the back of the wide end of a tie - can be jacquard-woven to incorporate your brand or custom text. MOQ to customize tipping is 50.
Get Our Free Quote & Sample
Fill the (RFQ) Request For Quotation. You can get a free sample by checking out the item of your choice and inputting the order number in the RFQ form. The amount will then be deducted from the cost of the wholesale or bulk purchase.
Comments (0)